We had the BEST time working with Allison and Andrew….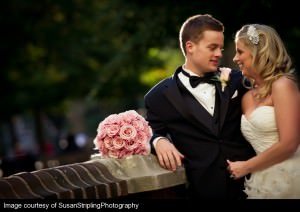 We first met over a breakfast meeting, near Allison's parent's home, when they were in from Chicago – you see Allison and I went to the same Elementary and High School…and Allison's mom taught there too.
We had a GREAT meeting…. And life just got better from there – Allison and Andrew were so much fun to work with, they really clicked with the wedding professionals we referred and she actually brought out my inner fashionista
I became OBSESSED by the way her stunning Oscar de la Renta gown moved and the Christian Louboutin shoes were the perfect accent and tied in the colors of the wedding…
The ceremony was held at the beautiful, historic Church of the Holy Trinity on Rittenhouse Square and Allison and Andrew had such a great relationship with Reverend Neale.
Their reception was hosted in the Millennium Ballroom at the Loews Hotel Philadelphia accented by the beautiful décor of Eventricity.
DJ Matt Blank of Synergetic Sounds and Light ROCKED the house – the dance floor was packed all night…
And the entire event was captured by photographer Susan Stripling and videographer Glen Elliott
We LOVED working with both of you…what an AMAZING couple…
And I will cherish the Mark Bobble-head!
.